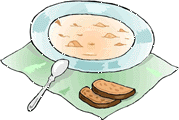 2 Tbs butter
1 sweet onion, chopped
1 lb fresh button mushrooms, cleaned and chopped
1 oz dried porcini mushrooms
3 cups water
5 cups vegetable broth
½ lbs fresh wild mushrooms, cleaned and sliced (porcini, shiitakes, chanterelles, portobello are
good choices – try a mixture of different types)
½ cup soy milk, plain
1 Tbs lemon juice
Salt and Pepper to taste
In a soup pot, melt the 1 Tbs butter. Add the onions and cook until soft – about 10 minutes. Add the button mushrooms, dried porcini mushrooms, water and broth and bring to a boil. Reduce heat and simmer 25 – 30 minutes, until the mushrooms are tender.
Meanwhile, in a saute pan melt the other 1 Tbs butter. Add the wild mushrooms and saute until tender – about 5 minutes.
In a blender, puree the first mixture (porcini-broth) until smooth. Work in batches, to avoid spilling. Strain the soup through a sieve.
In a medium pot, add the strained soup and wild mushroom mixture. Over medium heat, slowly stir in the soy milk and lemon juice. Heat for 1 -2 minutes, until soup is hot.
Serves 4